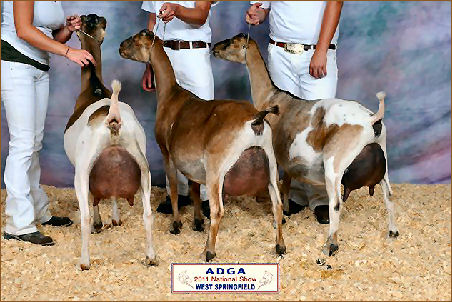 1st Place Senior Get of Sire 2011 ADGA National Show
~ Reference Bucks~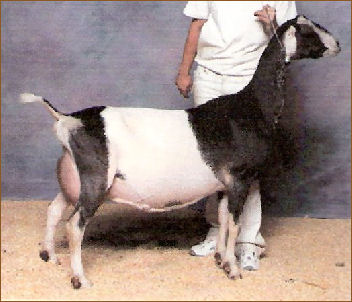 SGCH Kastdemur's Slice ~ dam of Spartan
++*B Kastdemur's Spartan
L1352102 ~ 03/29/05
Chamoisee and white
4-04 92 EEV
SS: +*B Hogg's-Hideaway Chiron
SIRE: +*B Kastdemur's Citron ~ 87 VVE
SD: GCH Kastdemur's Citra 2*M ~ 92 EEVE
DS: +*B GCH Becca's Hemingway ~ 90 EEE
DAM: SGCH Kastdemur's Slice 3*M ~ 93 EEEE
DD: SGCH Kastdemur's Seven-Up 2*M ~ 91 EEEE
Spartan was offered to us by Karen after our original order couldn't be filled. We feel it was fate that we ended up with him instead of the buck we had originally picked. Karen suggested Spartan because she knew we like animals with lots of length and size. He has all of this and more. His feet and legs are excellent and his is sharp and angular throughout. Slice, his dam, is one of the largest does in Karen's herd, and has had quite a show career winning national Grand Champion LaMancha in 2005. She appraised an impressive overall 93, along with an outstanding milk record. His sire, Citron, produced the 1st place Junior Get at the 2005 Nationals. We feel Spartan produces a dairy doe that is overall correct and has a well-attached mammary system. His daughters are some of the best we have had and we will continue to use him over the next couple of years. He ties in well with our one*Oak*Hill lines and has proven to be a very valuable buck.

Dec. 2009 - unfortunately Spartan sustained a fatal injury. We consider this a huge loss, but are even more grateful for his daughters in our herd.

Linear Appraisal:
Year
Show Record:
1-03 84 +E+
2006
ADGA National Show:
1st place Junior Get of Sire
Sire of 1st place Senior kid
4-04 92 EEV
2009
ADGA National Show:
Sire of National Jr. Champion Recorded Grade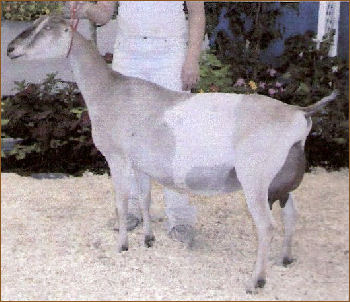 GCH Kastdemur's Citra 2*M ~ dam of Cyclone

*B Kastdemur's Cyclone
AL1352107 ~ 04/15/05
Chamoisee with white belt
2-03 89 VEE
SS: ++*B GCH Becca's Hemingway ~ 90 EEE
SIRE: ++*B Kastdemur's Deviant ~ 90 VEE
SD: SGCH One*Oak*Hill Tumbleweed Diva 1*M ~ 93 EEEE
DS: ++*B GCH One*Oak*Hill Medicine Tumult ~ 92 EEE
DAM: GCH Kastdemur's Citra 2*M ~ 92 EEVE
DD: SGCH Kastdemur's Sprite 1*M ~ 92 EEEE
Cyclone is a beautiful buck that we purchased from Kastdemur's Dairy goats. We have admired his dam, Citra, for several years and talked with Karen about ordering a buck from her at the Nationals in 2004. He is everything we had hoped for, with his powerful frame and long, level topline. Cyclone had an injury to his front leg which caused him some problems this past winter. We hope to collect his this fall, and will see how he handles this year's winter weather. We love the length, size and power Cyclone produces, and the correctness in his lines. His dam, Citra, is very structurally sound and is a real reproducer, and has additionally had many class wins at the National level. Cyclone's littermate. Civi, has finished her championship for us this season, and is also a very balanced and correct animal. Along with such a fine dam, we love the animals behind his sire, Deviant. Diva, his paternal granddam, is an awesome doe in her own right, and has the similar lines that we have been working with, and has many wins to her credit.

One of Cyclone's first-freshening daughters, Lucy, has finished her championship as a yearling. We love our Cyclone daughters - be sure to check out Lucy, Tawny, Mya, Mia and Cammy!

Linear Appraisal:
Year
Show Record:
2006
ADGA National Show:
4th place Junior Get of Sire
2-03 89 VEE
2007
Sire of GCH daughter, Lucy


CH Autumn-Acres Medaillon
L1529015 ~ 03/18/10
1-05 89 EEV

SS: ++B Dagron Taipei's Toronto ~ 91 EEE
SIRE: +*B Kastdemur's Up & Atom ~ 91 EEE
SD: GCH Kastdemur's Make7UpYours 3*M ~ 93 EEEE
DS: ++*B Kastdemur's Spartan ~ 92 EEV
DAM: SGCH Autumn-Acres Miss Maple Sugar ~ 92 EEEE
2010 ADGA National Champion
DD: CH Autumn-Acre Madison Ave. ~ 89 VEEE
Medaillon is a tall, long-bodied buck that is upstanding and correct in the front end assembly. HE is smoothly blended and has excellent rear leg angulation. He is the best of both parents, and we feel this will blend well with the rest of our herd. We look forward to using him this fall!
Medaillon's first kids have excelled over their dams in overall size. They have good width and depth, and have lots of style. We are excited to see them fresh! He is very tall and long and will mature into a big, big boy!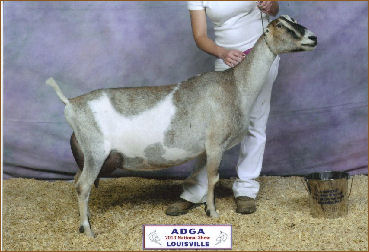 SGCH Autumn-Acres Miss Maple Sugar, dam of Medaillon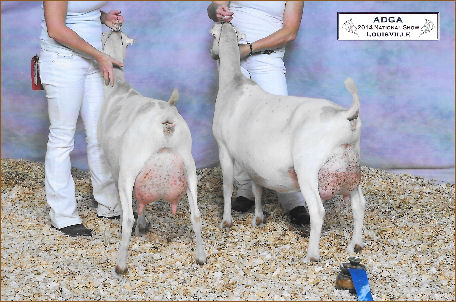 Slayer's littermate sister, Shine, and his dam, Sunny
1st place Dam & Daughter 2014 ADGA National Show
Autumn-Acres Rise & Shine
AL1617148 ~ 03/03/12

Slayer follows in his mother's hoofprints! You want to talk about a buck that is HUGE and has a ton of bone, this is your guy!! Slayer is a buck that combines two of our strongest lines and really carries a lot of substance and stature. Slayer is a buck that appears too big to maintain the amount of dairyness that he does, but don't let your eyes fool you. Slayer is a buck is extremely open in his rib design and very apparent with his tremendous amount of general appearance.
This bucks is super correct on his feet and legs while running up hill and blending very smoothly into his front end. We are very excited about this buck as he has been collected and his semen will be used heavily this year and in the future.
This buck is really producing kids with all kinds of size and bone - consistently! We are impressed with his milking daughters having high wide rear udders and smooth fore udders.
| | | |
| --- | --- | --- |
| Linear Appraisal: | Year | Show Record: |
| | | |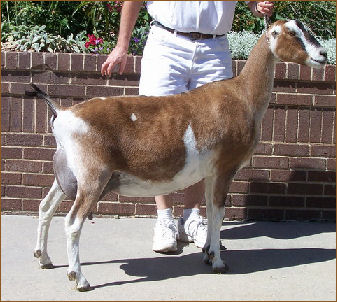 SGCH South-Fork Sweet Hailey, dam of *B South-Fork AV Hurricane
*B South-Fork AV Hurricane
L1618227 ~ 03/17/12

SS: +*B SGCH Kastdemur's Landslide ~ 92 EEE
SIRE: *B Kastdemur's AV Avalanche 3*M
SD: SGCH Kastdemur's Avena 3*M ~ 92 EEEE
2012 ADGA National Champion
DS: +*B SG Tempo Bode Miller ~ 85 VV+
DAM: SGCH South-Fork Sweet Hailery 4*M ~ 92 EEEE
DD: SGCH South-Fork Sweet Trick 3*M ~ 91 VEEE
We are just so pleased with the addition of Hurricane! His daughters are certainly very impressive with their exceptionally high rear udders and perfect teat placement. His yearling daughter, Madam, was first place yearling milker at Nationals in 2014!

Linear Appraisal:
Year
Show Record: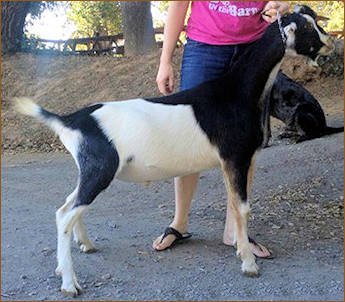 Stingray ~ photo age 5 months SGCH Kastdemur's Avena 3*M
2012 ADGA National Champion ~ Dam of Stingray

+*B SG Kastdemur's SA Stingray
L1630480 ~ 03/09/13

SS: +*B Mauldin's M. M. Expensive Habit
SIRE: ++*B SG Kastdemur's Sting
SD: SGCH Kastdemur's Slice 3*M
2005 ADGA National Champion
DS: ++*B GCH Kastdemur's Watch Yourself ~ 91 EEE
DAM: SGCH Kastdemur's Avena 3*M ~ 91 EEEE
2012 ADGA National Champion
DD: SGCH Kastdemur's Evian 2*M ~ 94 EEEE
2008 & 2009 ADGA Nat'l. Champ; 2006 Nat'l RGCH
Stingray was a buck we watched over the past couple of years hoping to add him into our breeding program. After talking with Krista, she was gracious enough to offer him to us.

He is a long, level buck with an upstanding clean front end. We feel he will compliment our does adding some style and dairyness to our powerful frames. We are excited to add him to the herd and see what his genetics can do!

Linear Appraisal:
Year
Show Record:
Photos of Stingray and Avena courtesy of Kastdemur's Dairy Goats


Autumn-Acres Mia's Medley, dam of Autumn-Acres Grand Venture
Autumn-Acres Grand Venture
AL1632847 ~ 04/01/13

SS: *B Willow Run Brigand Pluto
SIRE: Willow Run WRP Sirius Black
SD: Willow Run BugattiSolarEclipse ~ 90 VEEE
DS: ++*B Kastdemur's Spartan ~ 92 EEV
DAM: Autumn-Acres Mia's Medley ~ 88 VVVV
DD: CH Autumn-Acres Miss Mia ~ 90 VEEE
We spent lots of time trying to plan out our next junior herd sire. After contemplating several genetic combinations we decided to breed Medley to Sirius Black and try for our next future herd sire. We could have never been so lucky, Medley had a buck and a doe kid.

Venture is a very special buck kid that is extremely long and tall while getting the structural correctness and balance from his mother. We sure are glad that we got this last amazing cross. Venture and his sister, Temptation, knew they were special from the beginning, and they are not afraid to show it! Temptation has done spectacular as well, winning the Indiana State Fair in 2013 and placing 2nd at Nationals in 2014. IF you can't tell, we are REALLY, REALLY excited about these two animals.

Linear Appraisal:
Year
Show Record:

Autumn-Acres Journey
AL1711733 ~ 02/25/14

Linear Appraisal:
Year
Show Record:


*B Kastdemur's Cutting Edge AI
L1682326 ~ 03/08/14

SS: ++*B GCH One*Oak*Hill Mac Tumble Weed ~ 91 EEE
SIRE: ++B One*Oak*Hill Tumbleweed Talon ~ 90 EEE
SD: Elm*Glen Tribute Tumore'
DS: ++*B SG Kastdemur's Tach Lach ~ 88 VEE
DAM: GCH Kastdemur's Venezuela 4*M ~ 89 EEEE
DD: GCH Kastdemur's Survivor Vanuatu 2*M ~ 93 EEEE
Edge has matured into a beautiful, structurally correct buck. Edge's daughters show strong general appearance. Their mammary systems are well attached both fore and rear and most of all his offspring have style!

Linear Appraisal:
Year
Show Record:


CH J-Haven's WP Cha-Ching Cherry, maternal granddam to Jerry
CH J-Haven's Master of My Domain (Jerry)
L1768333 ~ 03/15/15
~Co-owned with Deanna Fritz~

SS: A++*B SGCH Kastdemur's Landslide ~ 92 EEE
SIRE: *B Kastdemur's Hot Wet Mess
SD: GCH Kastdemur's Survivor Vanuatu 3*M ~ 93 EEEE
DS: Autumn-Acres Rise & Shine
DAM: J-Haven's RS Crabapple ~ 86 V+VV
DD: CH J-Haven's WP Cha-Ching Cherry ~ 88 ++VE
Linear Appraisal:
Year
Show Record:
| | |
| --- | --- |
| | Dam: J-Haven's RS Crabapple (first freshener udder) |
Photos courtesy of J-Haven Acres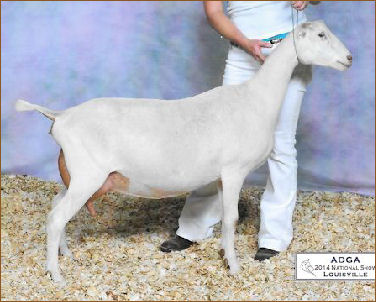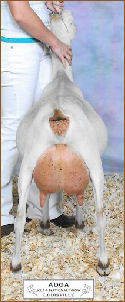 Autumn-Acres Mya's Madam, dam of JT
Autumn-Acres Journeys Tale (JT)
AL1775170 ~ 02/27/16
~Co-owned with Deanna Fritz~

SS: Autumn-Acres Grand Venture
SIRE: Autumn-Acres Journey
SD: CH Autumn-Acres Strait's Nexus ~ 91 EEEE
DS: +*B South-fork AV Hurricane
DAM: Autumn-Acres Mya's Madam ~ 87 V+VV
DD: CH Autumn-Acres Miss Mya ~ 91 EEEE
We were lucky enough to get JT back this summer. After seeing his daughters and the improvements he made with the rear udders, teat placement and length of body we knew we wanted to bring him back into the breeding program.

Linear Appraisal:
Year
Show Record: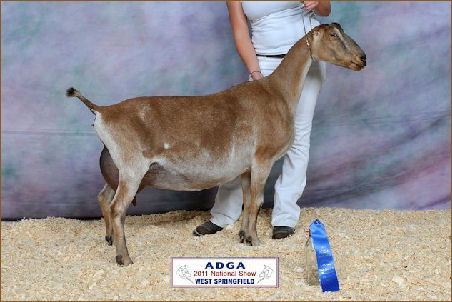 Mat. granddam: CH Autumn-Acres Miss Mya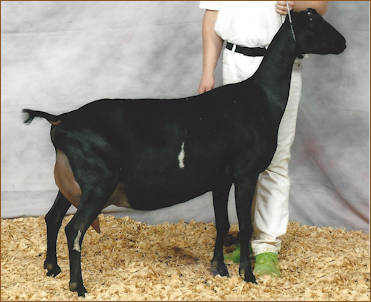 CH Autumn-Acres Strip Tease, dam of Trigger
Autumn-Acres Pull The Trigger
AL1947954 ~ 02/24/18

SS: ++*B SG Kastdemur's Sting
SIRE: +*B SGCH Kastdemur's SA Stingray ~ 90 VEE
SD: SGCH Kastdemur's Avena 3*M ~ 91 EEEE
2012 National Champion
DS: Altrece Divines PB Design
DAM: CH Autumn-Acres Strip Tease ~ 88 VVVV
DD: Autumn-Acres Surri Up ~ 91 EEEE
Trigger is such a special guy. He is just an amazing young buck...very tall, upstanding, long and clean framed. he is angular and stands on a good set of feet and legs. he brings together some exciting lines and rolls them into an impressive package. His first kid crop has been outstanding and we can't wait to use him more. we only had a small number of does born from him but l ove the ones we have. he has brought some dairyness to his daughters without losing size and bone. Silk is one of our favs!!

Linear Appraisal:
Year
Show Record: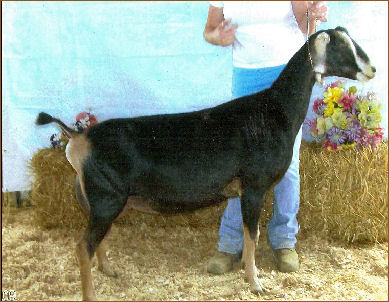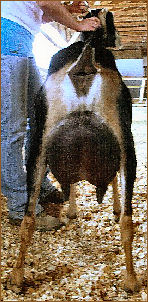 Mat. granddam: Autumn-Acres Surri Up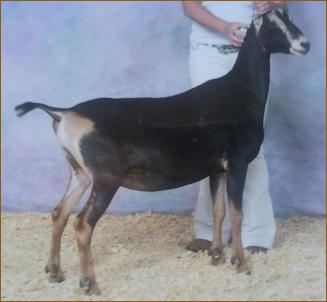 Autumn-Acres Exceptional, dam of Exon
Autumn-Acres Exon
AL2054823 ~ 03/12/19

SS: +*B SGCH Kastdemur's SA Stingray ~ 90 VEE
SIRE: Autumn-Acres Pull the Trigger
SD: CH Autumn-Acres Strip Tease ~ 88 VVVV
DS: *B Kastdemur's Raising the Bar ~ 82 +++
DAM: Autumn-Acres Exceptional
DD: CH Autumn-Acres Excel's Escapade
Linear Appraisal:
Year
Show Record:
| | |
| --- | --- |
| Mat. granddam: CH Autumn-Acres Excel's Escapade | Pat. granddam: CH Autumn-Acres Strip Tease |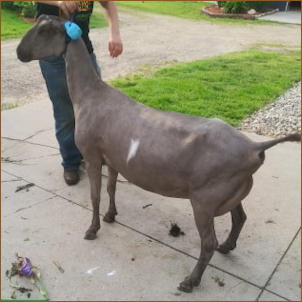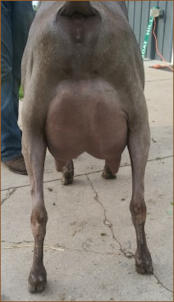 CH Autum-Acres Turquose, dam of Titan
Autumn-Acres Titan
L2021631 ~ 04/01/19

SS: ++B One*Oak*Hill Tumbleweed Talon ~ 90 EEE
SIRE: *B Kastdemur's Cutting Edge
SD: GCH Kastdemur's Venezuela 4*M ~ 89 EEEE
DS: *B Kastdemur's Raising the Bar ~ 82 +++
DAM: CH Autumn-Acres Turquoise
DD: CH Autumn-Acres Tara's Teal
Linear Appraisal:
Year
Show Record: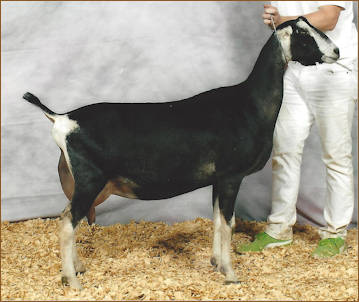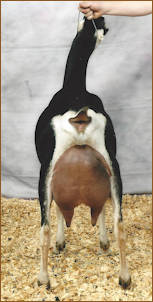 Mat. granddam: CH Autumn-Acres Tara's Teal

~ Alpine ~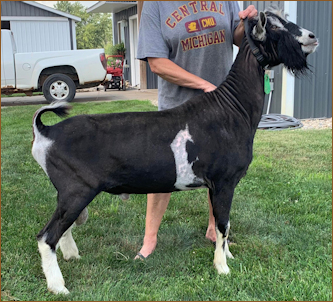 *B Redwood Hills Chimay Rainmaker
AA2099709 ~ 03/22/20

SS: +*B CH Olentangy Andretti Accolade ~ 90 VEV
SIRE: +*B Olentangy OAA Chimay
SD: SGCH Olentangy Lance Chrysocolla 5*M ~ 93 EEEE
DS: ++*B Shining-Moon X-Rated
DAM: SGCH Redwood Hills Xrated Rainboots 11*M ~ 93 EEEE
DD: SG Redwood Hills Lance Raindrop 10*M ~ 88 VEVV
We had this guy on order for some time and were so pleased when Scott called and said he was heading our way. I have admired his dam since she was a yearling and was not surprised when she was named National Champion. His sire has already made his mark in the Alpine world and we are impressed with his daughters!

Maker is tall and extremely long. He will take a year to fill out his frame, but has so many strong points. He is worth the wait! Maker will be used heavily this fall and we are excited to see his first kids.

Linear Appraisal:
Year
Show Record: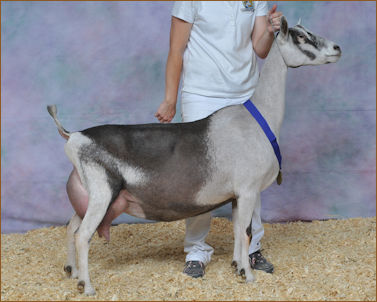 SGCH Redwood Hills Xrated Rainboots, dam of Rainmaker
Photo courtesy of Redwood Hill Farm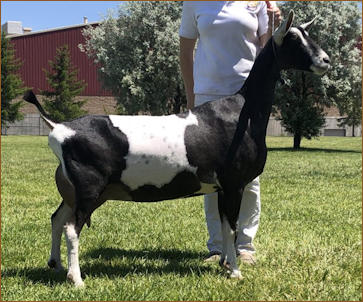 Redwood Hills Chimay Catalina, dam of Boston
Redwood Hills Beau Boston
AA2014771 ~ 03/11/19

SS: +*B SG Hoach's CC Kazaa Klein ~ 86 VVV
SIRE: *B Redwood Hills Klein Beau
SD: GCH Redwood Hills X-Rated Bonita 12*M ~ 92 EEEE
DS: *B Olentangy OAA Chimay
DAM: Redwood Hills Chimay Catalina ~ 89 VEEE
DD: Redwood Hills Zodiac Carioca
A big thank you to my good friend, Cody, for letting me use Beau for a couple of weeks this fall. he is an exciting buck with a big pedigree! His dam is an impressive doe that stands true to her maternal line. She was 6th place 2 year old as a first freshener at this year's Nationals and his sire is one of Redwood Hills up and coming bucks. This boy ties in the lines we are using and we can't wait to see the results!

Linear Appraisal:
Year
Show Record:

Photo courtesy of Redwood Hill Farm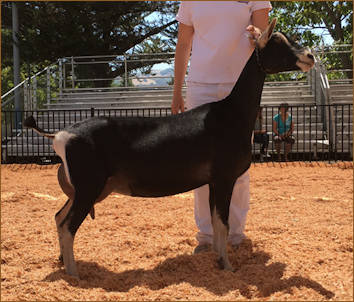 Redwood Hills Klein Rosetta, dam of Redwood Hills Zodiac Revelry ~ photo courtesy of Redwood Hills Farm
Redwood Hills Zodiac Revelry
AA1819893 ~ 04/24/16

SS: +*B SG Tempo Aquila Yukon Jack ~ 91 EEE
SIRE: +*B SG Tempo Aquila Zodiac ~ 87 VE+
SGCH Tempo Aquila Tetrazzina 4*M ~ 94 EEEE
DS: +*B SG Hoach's CC Kazaa Klein ~ 86 VVV
DAM: Redwood Hills Klein Rosetta ~ 89 EEE
DD: SGCH Redwood Hills X-Rated Rima 11*M ~ 93 EEEE
Revelry has matured into a handsome buck with a long , level topline and good width throughout. His first kid crop is very impressive and we can't wait to have some fresh!

Linear Appraisal:
Year
Show Record:
| | |
| --- | --- |
| Mat. granddam: SGCH Redwood Hills X-Rated Rima 11*M | Pat. granddam: SGCH Tempo Aquila Tetrazzini 4*M |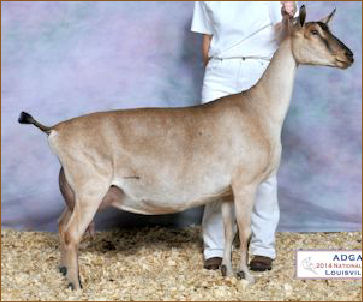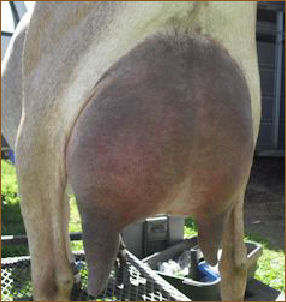 GCH PJ-Bailey's Charmer Aglimmer, dam of PJ-Bailey's Driver Aragon ~ Photo courtesy of PJ-Baileys Dairy Goats
*B PJ-Baileys' Driver Aragon
AA1733930 ~ 02/18/15

SS: +*B SG Angel-Prairie Brutus Realthing AI ~ 91 EEV
SIRE: +*B GCH Cherry Glen Realthing Driver
SD: Dkidd Dinah' Dianna 7*M
DS: +*B GCH Windrush Farms IRS Charmer ~ 89 VEV
DAM: GCH PJ-Baileys' Charmer Aglimmer 6*M ~ 91 EEVE
DD: SGCH PJ-Baileys' Sulten Arabella 5*M ~ 91 VEEE
Aragon is one of the most impressive bucks on the farm. He is very correct in every aspect. He is the type of buck that stands out with his rich color and style. His kids have shown very well and his first two milking daughters are very nice and have topped their classes this year!

Linear Appraisal:
Year
Show Record: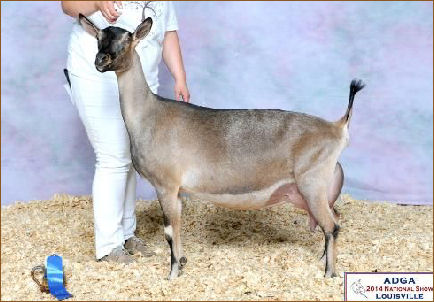 CH Windrush Farms Blizz Mischief - littermate sister to Windrush Farms Blizzard Manny
Windrush Farms Blizzard Manny
A1654596 ~ 04/15/13

SS: ++*B Willow Run Abraham Wonder ~ 88 V+E
SIRE: *B Windrush Farms Wonder Blizzard
SD: SG Angel-Prairie Dutch Cinnamon 4*M ~ 91 EEEE
DS: +*B Iron-Rod ET Sheriff ~ 86 +VE
DAM: Windrush Farms IRS Emily ~ 87 VVEV
DD: Windrush Farms WRW Penelope 1*M ~ 91 VEEE
After seeing Emily and how much we admired her after she freshened, we knew we wanted a buck kid out of her. We were so lucky to get such a correctly balanced, tall, angular and structurally correct buck kid this year. We couldn't be more excited after we saw his two full sisters, Mimi and Mischief. Needless to say we expect great things to come from this buck.

As we had hoped, all (yes all!) of his kids that we retained have their Jr. leg!!! One of his Senior doe kids was 1st place at the 2014 National show! Now we can't wait to see those kids freshen!!

Linear Appraisal:
Year
Show Record:

~ Oberhasli ~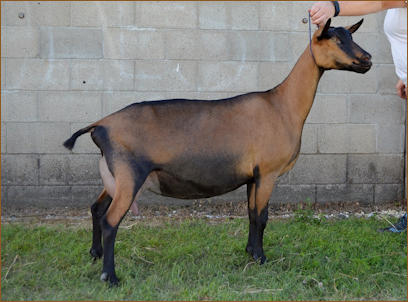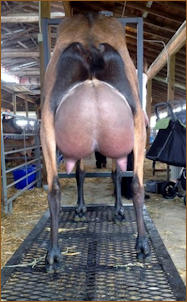 CH Haycreeks Fractal Flicker, dam of Rifle ~ Photo courtesy of Haycreek Dairy Goats
Haycreeks Brownie Rifle
E1756402 ~ 04/01/15

SS: New Dreams W Licorice
SIRE: +B New Dreams L Fudge Brownie
SD: GCH White-Haven Vanilla Fudge 3*M ~ 91 EEEE
DS: *B New Dreams JR Fractal
DAM: CH Haycreeks Fractal Flicker
DD: GCH Haycreeks SA Shimmer 3*M ~ 91 EVEV
Linear Appraisal:
Year
Show Record: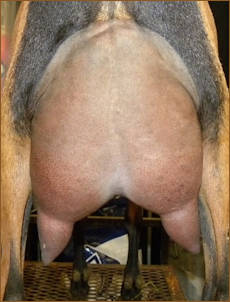 CH Deidrago JM Mochas Nakoma, dam of Deidrago SKFL Nakomas Kocoum ~ photo courtesy of Deidrago Dairy Goats
Deidrago SKFL Nakomas Kocoum
AB1813483 ~ 03/11/16
SS: *B New Dreams JR Permafrost
SIRE: *B Haycreeks Frost Skyfall
SD: SGCH Haycreeks Xcited Sona 2*M ~ 89 EEEE
DS: New Dreams Bret Junior Mint ~ 90 EEV
DAM: CH Deidrago JM Mochas Nakoma ~ 87 VVVV
DD: GCH White-Haven Mocha 3*M ~ 91 VEEE
Kocoum has grown into a pretty buck. He is very long and level with good feet and legs. His first set of kids are extreme with long bodies and correct set of feet and legs.

Linear Appraisal:
Year
Show Record: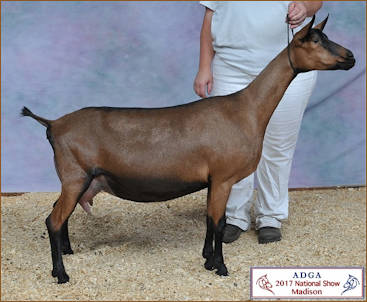 CH Haycreek Kane Stradivaria ~ 89 VEEE, Dam of Savage
Haycreeks Uptown Savage
AB1885401 ~ 04/03/17

SS: +*B Tutlelu Attention ~ 86 VEV
SIRE: Haycreek Uptown Funk
SD: SGCH Haycreeks Fractal Flicker ~ 91 VEEE
DS: +*B SG California Special Kane
DAM: CH Haycreeks Kane Stradivaria ~ 89 VEEE
DD: SGCH Haycreeks Solution Shay 5*M ~ 90 EEVE
We are very excited about our new Junior Herdsire, Savage. He is a beautiful dark red color, wide throughout with excellent feet and legs. His dam is very impressive with all her size and length. her mammary system is outstanding. We feel he will bring some outstanding things to our breeding program and can't thank Morgan and Keith enough for sharing him with us!`

Linear Appraisal:
Year
Show Record:
Photo of Stradivaria courtesy of Haycreek Farms

Autumn-Acres SK Oakley
AB1992367 ~ 04/01/18

SS: +*B Haycreeks Frost Skyfall
SIRE: Deidrago SKFL Nakomas Kocuum
SD: SGCH Deidrago JM Mocas Nakoma ~ 91 VEEE
DS: Cardinal*Hill CAL Led Zeppelin
DAM: CH Haycreeks LED Z Feel of Spring
DD: CH Haycreeks Masquerade Splendor
Oakley is a big Ober buck. He is upstanding and strong on his feet and legs. His first kids were outstanding in general appearance. We look forward to more this spring!

Linear Appraisal:
Year
Show Record: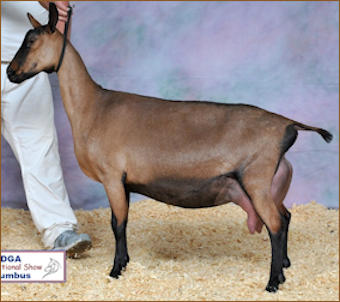 SGCH Haycreeks Solution Tenley 8*M, dam of Turbo
Haycreeks Shock Top Turbo
AB2058922 ~ 03/23/19

SS: Haycreeks Uptown Funk
SIRE: Haycreeks Uptown Shock Top
SD: GCH Haycreeks Salute Shindig AI 6*M ~ 90 VEEE
DS: +*B SG Haycreeks X Solution ~ 90 VEE
DAM: SGCH Haycreeks Solution Tenley 8*M ~ 89 VEEV
DD: SGCH Haycreeks Brownie Tribute 7*M ~ 91 VEEE
Turbo is another exciting buck we have purchased from the Haycreek herd. He is a good sized buck that has an exceptional rump and strong feet and legs! We are looking forward to seeing some kids out of this guy!

Linear Appraisal:
Year
Show Record:

Mat. granddam: SGCH Haycreeks Brownie Tribute 7*M

Pat. granddam: GCH Haycreeks Salute Shindig AI 6*M

Mat. grandsire: +*B SG Haycreeks X Solution
Photos courtesy of Haycreeks Farms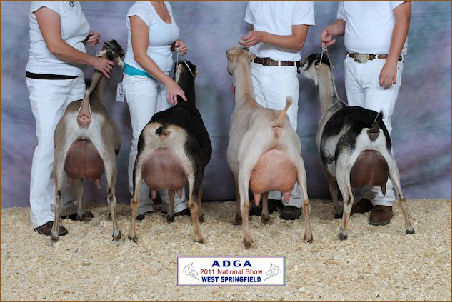 1st place Recorded Grade Dairy Herd 2011 ADGA National Show
(from left - Kmora, CH Tressa, CH Vizzion, CH Trista)

Home

LaMancha Senior Does

LaMancha Yearlings

LaMancha Junior Does
Alpine Senior Does

Alpine Junior Does

Oberhasli Senior Does

Oberhasli Junior Does
Herdsires

Reference Does

Reference Bucks

Kidding Chart

For Sale

Contact Us
All information and photos on this site are © Autumn-Acres Dairy Goats 2015-2021
Website designed and maintained by Sunflower Web Design
Webhosting provided by Firebug Studios
Page last updated 02/13/2022